Posted on 9/18/2017 at 7:19:03 PM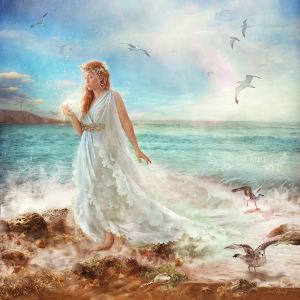 Riders on the Storm…
When Jim Morrison recorded and released this song in 1971, I was a tender teenager on the edge of seventeen. Not only did I adore The Doors, but I absolutely loved this song. Little did I know back then that I would be whispering this very song frequently after my move to Florida's east coast almost every year.
Hurricanes are a different kind of animal. They are patient until they unleash their fury. They are massive and determined. They are influenced by their surroundings but retain their stubbornness in the face of it all. Ya gotta respect them. "Political correctness" be damned, they should all be named after women, however, as the male of any species could never even come close to portraying the temper of these most awesome displays of Mother Nature at her ultimate power.
If given the choice, however, I would court a hurricane way before tornados and earthquakes, both of which I have lived through as well to tell the tale. Tornados and earthquakes are quick to strike without a moment's notice, sneaking up behind you and smacking you down before you know what has hit you. Facing a hurricane is like the count down to High Noon at the OK Corral. The clock ticks. You prepare as best you can. Then the winds turn up their voices, calling you out into the street to face your opponent.  But this duel is not like most. The hurricane has a blind eye, grabbing and snatching and spitting at whatever is in her way. And in her tantrum, she lashes out without feeling, plan or care. Such is her nature.
There is no way to face her down either. The most you can do to fight her is to curl up into a ball, protecting your vital organs, and let her slap you around with her windy breath until she tires of it all or moves on. Once she has passed on (or passed out), you find yourself peaking through stretched out fingers from underneath your elbow hoping you have seen the last of her. Like a lady of the night, sometimes she is in a hurry; other times she takes her time. But unless you leave her company, she will definitely have her way with you. And just when you think you have seen the last of her kind, along comes one of her buddies, following along in her wake, looking to stir up trouble.
Often folks will ask me what it's like to ride the storm. It is stressful and nerve-racking. If I had my druthers, I would prefer to not have to do it. But there is a stubbornness in me that I see in the storm that prompts me to stand my ground, hunker down and keep an eye on my space for the duration if at all possible. Our home is fairly storm worthy (knocking on wood). When my sweet granddaughter asked me not too long ago, "Will you be safe, Grandma?" I relied to her, "We are the three little pigs. Our house is made of bricks. And no hurricane wolf is gonna blow our house down, my dear!"