Posted on 1/15/2014 at 11:35:12 PM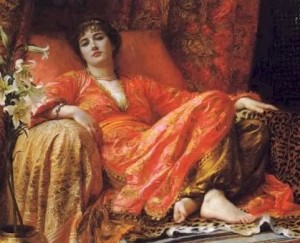 Gosh…it really is that time again. I have very good feelings about this new year of 2014 and I am not entirely sure why…
I always make some New Year's resolutions and I have learned over the years that it is best to keep it simple stupid. 😉 Here are some things that I have in mind for this new and exciting year…
I said this last year and I am going to repeat myself again…I will try my hardest to blog more. I love it and can find very little time to do it, and so this is more for myself than anything, but you guys will reap the benefits too. I have decided to open up about a few things that define who I am and to share some of my reading and conjure techniques with the world. So…watch this spot for more interesting goodies and bits-o'-tid.
Secondly, I am going to be redesigning my web page. I'm talking complete overhaul. It has been many years since I created my home page www.sleeping-gypsy.com. A lot has happened and I have grown so much since then. It's time for a new look and a new attitude. I have the concept down and I am ready to break new ground. I hope you ill like what I have done with the place. I hope to have it done by the end of January but the middle of February will work, too.
Third…I am going to reopen my ecommerce once again. I am going to offer the very same goods that I carry in my brick and mortar store, as they have had very good reception with the public. New things available every week will be an exciting challenge, but I think I am ready!
Last but not least…I will resume working on my manuscript with a vengeance! I have dreamed for many years of being an author and have had more than a few starts and stops, but now I am really feeling the urge to complete the project. I am shooting for the end of the year and giving myself plenty of time. I am optimistic. Let's just hope that I can keep up with it all!
I hope and pray that everyone has a beautiful and peace filled New Year! I know things with the economy have been terrible and that the whole world has been going through some growing pains, readjustments and all sorts of stuff with trying to stay on our feet.  We are a resilient species and stubborn to boot! I have high hopes for everyone this year. Let's try our best to make 2014 the best year…ever! <3