Posted on 2/2/2013 at 12:26:58 AM
Whenever I do a reading for a client, I always warn them that we never know who is going to come through. Sometimes it will be a departed loved one. Other times it will be a guide that wishes to communicate. And then there are the angels that hover around wanting their messages to be heard. In the majority of the readings that I do, it is the latter that come through the most, with departed loved ones coming in a clear second. Guides are a bit more reluctant to show themselves, as their nature is highly personal and they normally don't share things with me. They just let me know that my client should look them up when they get a chance, as they have some important things to tell them. And the departed loved ones in spirit have no problem with letting their presence be known! It is not unusual for them to crowd around our light waiting like little kids for a chance to share their messages. It is by far, however,  the angels that are the first to step up, with their shining countenance impossible to ignore and their messages ringing clear as any bell. Make no mistake…they are formidable and not shy for being known…to me, anyways. It amazes me how the majority of people never notice the angels around them, for they are the hardest for me to miss. Big ones. Tall ones. Little bitty ones. They are all there…all the time…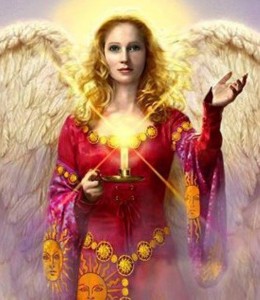 I encounter them daily, whether they are hanging around or moving about, they are always there waiting to help or deliver a message from the Higher Realms. And when I relate their presence to others, the reactions vary…from eye rolling, to poo pooing to snickers and even sometimes outright denial. Every once in a while I will have a believer before me and then it makes all the antics of the others worth the while, as one can only try. If only they would remember to not shoot the messenger…which is what the Hebrew and Greek meanings of the word is…"messenger". But mostly I am no angel. Just a girl in the world…a very strange and wondrous world indeed…
My first encounter with an angel was when I was about 4 years old. I was playing in the back yard of my childhood home when there before my eyes the angel appeared as if from out of nowhere. I say appeared. It was more like unfurled as if out of a cloud. At first I was frightened and I ran into the house to tell my mom. But she didn't believe me, writing it off to an over-active imagination. We had a nanny named Alzeen who took care of my little brother and I back in those days and she is the one who would listen to me and believe me when I told her about my angelic encounters. This is when I learned from sweet Alzeen my first prayers to God, which has been a huge part of my life to this very day.  I wonder now if she knew then what an impact she would have on me over all of these years. I suspect that she does…
After a while the angelic presence became more normal to me and I grew used to them and kept their company a secret as no one would believe me. I felt great comfort knowing that they were around to help, protect and answer my prayers. This personal relationship continues still and for this I am very grateful and feel very blessed.
Angels will make themselves known in various ways and it is up to each of us to watch for the signs. But one thing is for sure…they are here with us to help us and guide is throughout our lives, through the ups and downs, the highs and lows. Don't be afraid or embarrassed. Just ask for their help and they will come. But you have to ask, because they won't interfere. Boss's orders…
So, the next time you are feeling helpless or like there is no one on the planet that can help you or listen or if you just feel like you need someone to talk to or share your good news with, just call upon your angels and watch for their presence. We are never alone…they are always there…to help…to support…and to love us.
Until next time…
…many Blessings to everyone! 🙂